Chairlady - Shannon McKay
Shannon has been involved with Great Danes for more than 20 years. She is the owner of Saxony Great Danes, an accredited animal behaviour consultant (canine-1998) : ABC of SA and holds an MSc degree in animal behaviour.

She currently owns and shows 4 great danes, two harlequin girls. a mantle boy and a gorgeous black girl.
Vice Chair - Margie Lamprecht and member Barry Lamprecht
Barry and I joined the wonderful world of Great Danes in 2003 when we got our first Rescue Dane Rufus, a Merle Boy. He set a spark in our hearts that we didn't know could exist. Then followed a pack of unique Great Danes that came into our lives for some time: Saxony Goody Gumdrops – a Black Beauty who was Margie's Soul Dog; Mervyndane Caesr who was with us for only two months during which time he had two huge torsions. We then got Cherriton Obi Wan Kenobi, a Goofy Mantle Boy given to us by the late Terry Batchelor. Then elegance entered our home in the form of Vallevine Leah (Ria) our first Blue Dane, gifted to us by Gillian Webb of Valleyvine Great Danes – Barry's heart and soul. Mervyndane Rondriaan (aka Windsor) was followed by Mervyndane British Hiya, both of which were Rescues after their loving owner Eric Labuschane was murdered. In 2016 our little Blue Bundle of Dane joined us – Brukkaros Crazy Lil' Love! Chrissie was bred by Coen and Lana de Klerk. This little Cheeky Chop is the apple of Dad's eye. Both Barry and I grew up in families that had and loved dogs, but neither of us could ever have imagined how a Great Dane can change your perception of what "man's best friend" actually is. As we plan to downscale and head into retirement in the not too distant future, the one thing that is non-negotiable, and that is that a Great Dane will always be part of our lives.

We are honoured to be part of the SAGDA Committee, and hope to encourage and educate as many people as we possibly can, about these Gentle Giants. Our favourite and most valued times are spent at ringside, celebrating Great Danes with a very special group of like-minded friends and family.
Secretary - Yolanda Beukes
I got my first ever Great Dane, Axel, in 2006. Axel was what you would call my heart dog. Currently I share my life with two Great Danes, Echo (senior) and Obélix (junior). I'm an obedience instructor at McKaynine training centre and have been training and working dogs for the last 10 years. I enjoy doing obedience classes with my dogs and have obtained Silver and Gold Canine Good Citizen awards with most of them. I have done some showing before and enjoy spending time with friends next to the show ring.

My husband Marius and I are co-owners of Axel's, the dog bed company that focuses on quality beds for large and giant breeds. We are just your average family.
Wendy Smuts
I first became involved with Great Danes in 2009 when Bonnie, a mad blue Great Dane, came into my life. I loved the breed from the get go and presently am the proud mom of 3 fawn Great Danes namely Peter Pan, Piper & Paddington Bear (Paddy).

I love showing my dogs. I started showing when I was very young, for fun, with my Boxers. When I lived in Wales I showed my Doberman and then, after my return to Cape Town, I showed my Bullmastiff. First and foremost, my Danes are my "children", and shows are a great way to spend fun time with likeminded friends and my dogs.
Chantel Porelli
Having been in love with Great Danes from an early age, I was finally blessed with my first Dane, Pablo Picasso, in 2010, from Eric Labuschane of Mervyndane. Lola Picasso, also bred by Eric, then joined our family a few months later. My home was complete with my beautiful pair of Merle's…or so I thought!

In March of 2013, Eric was murdered and as he solely cared for his Danes, all fifteen of his Danes, unbeknown to anyone, survived 10 days without food, water or care until the police was notified of his death. A few days later, S.A.G.D.A was contacted by a reporter and action was quickly taken to help his Danes. It was no easy task but we all persevered and with the help of friends, hundreds of phone calls, hundreds of kilometres driven, we were given the 'all clear' and all fifteen Great Danes were brought to my home where they could finally be cared for and be safe.

Our family fell in love with two girls, HM Elizabeth and Pandora, who fitted into our homes and hearts as if they had been there since puppies, so we took the decision to adopt them both. By then, a week and a bit later, the other thirteen Danes had also gone to their new homes and that's when we discovered that Pandora was expecting puppies and two weeks later she gave birth to nine beautiful puppies in our kitchen! I have never whelped a litter before and this mammoth task taught me a new found respect for reputable and ethical breeders. It was not easy raising and weaning a litter of puppies on my own from two weeks of age, there was a lot of learning, a lot of tears, a lot of cleaning, a lot of rushing to and from vets, a lot of heartache, especially after their mom had to be in hospital for a week to treat her mastitis. The pups all went to their new amazing homes between nine and twelve weeks, we obviously decided to keep a precious little girl, Chantelina. Our house could never be a home without a Great Dane, or even five…and I wouldn't have it any other way!
Thirusha Padiachy
My love for Great Danes started in 2009 when I had decided that I wanted to start showing a dog at competition level. What started off as a new hobby eventually turned into something far more exciting and rewarding. I met a very passionate Great Dane breeder, Eric Labuschane(Mervyndane Great Danes), who gave me the opportunity to have one of his beautiful harlequin Danes (Mervyndane Winston Percius) but not before making me handle one, so that I knew what I was getting into. I have been in love with the Great Dane breed ever since that moment.

I was blessed with a second Great Dane 4 years ago, when Eric tragically passed away. At present I have 3 of these beautiful creatures keeping my home very busy and extremely full!

As a commitee member of SAGDA, I hope to assist my colleagues in educating and supporting the public about a breed that I fell in love with many years ago, as I believe that education is key to upholding the breed standard of the Great Dane.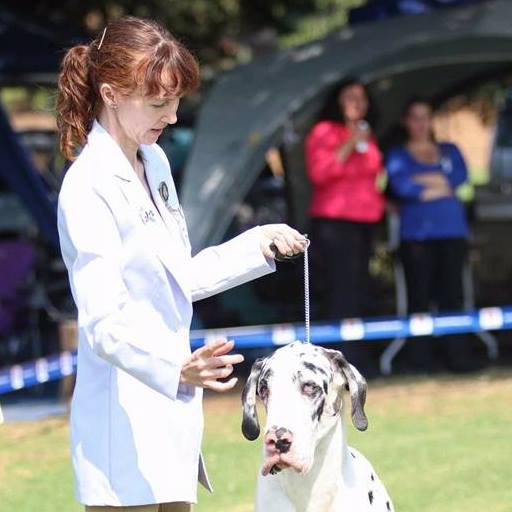 Marinda Havenga
I fell in love with Great Danes as a child after watching the movie "Ugly Dachshund". I always wanted one and knew exactly where in the small towns I lived in the Danes were, and would alter my bicycle route to school accordingly. My first "almost Dane" was a black Dane x Bull Mastiff x Dane. He looked a lot like a Dane.

I finally got my first registered Dane, a mantle merle girl from Anna van Heerden, when my son was a baby and that was that. Shortly after that my blues from Hazel Allsop and Gillian Webb followed, with the dream of breeding blues. I had a kennel registered and all was set, the blues just had to mature and be screened. But then life happened, circumstances changed and I no longer had the means to breed properly. So I settled for keeping Danes and learning about them.

Over the 18 years that passed since my first mantle merle girl, I studied Danes, their colour genetics and breeding practices; a breeder at heart, but not in practice. I kept in close contact with my mentor, Shannon McKay, and kept the love of the Dane alive. Currently I live in Centurion with my husband, two kids, 5 dogs and four cats. Three of the dogs are Danes, two Saxony girls and a Von Haewijon boy.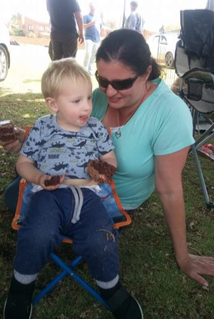 Michelle Geldenhuys
My involvement in Great Danes started 9 years ago when I acquired a Harlequin boy called Max. Since then our family has grown and Max and I now share our home with three fawn Great Danes; Merlot, Madison and Mae West as well as a French Bulldog called Margot.

I am actively involved in Breed Shows and was fortunate enough to be able to breed my first litter during July 2016.

I am very excited about the future of our noble breed.